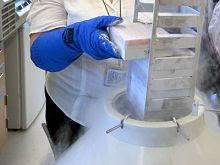 The ever debated embryonic stem cell research was the issue that finally
evoked a veto from Dubya
.
I was thinking a lot about this issue yesterday...
I have posted about this tons of times, but for me the fact that adult stem cells have more of a chance at working and there has been no success to date with embryonic cells really should make this a moot issue...
I know that people like to hang on to hopes when something bad happens to them.
...BUT, since we are having the debate -why don't we have it honestly...with a bit of a different spin...
For those
against
research using discarded embryos: The scientist didn't create these embryos. Infertile couples (and their doctors) did. If it weren't for people defying the will of nature/God/Darwin those embryos wouldn't even exist to be experimented on or thrown away. In their zeal to have their own baby they are willing to discard countless others to this legislated fate. I have never heard them held accountable...
And to those
for
the experimentation: Aside from the fact that it seems to be junk science... Aren't most people on the left subscribers of evolution and Darwin? Shouldn't the fittest survive and the weak be weeded out? These embryos are from couples that weren't biologically advanced enough to procreate without medical intervention --how strong will those manufactured cells be anyway?
I am
definitely
not one of those no medicine or medical intervention people...but I do think there is a time when nature will take its course no matter how hard we try to stop it. We may prolong life a bit and even help to create it --but at what cost?