See, cleaning can be fun! Well,
fun
may be stretching it a little, but cleaning out the basement yesterday I found some long-lost treasures!
Among the ones I can share...
Tons
of concert tickets (I didn't even remember I had saved them all. They were shoved in the back of an old jewelry box. And it seems I was even anal enough to write in the opening bands) Here are some of them...
My Cheerleading skirt! ...And look, it almost fits! (That will be my new goal...to be able to comfortably fit into my high school cheerleading skirt)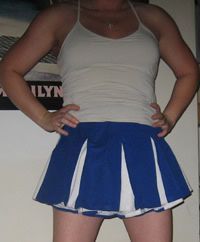 The boys decided they wanted to use some of my t-shirts they found as nightshirts (I buy tons of t-shirts and never wear them... round necks are rarely flattering on a woman) I laughed when I saw the ones they picked... It seems I am indeed raising them
right
...
(M's shirt is from
Protein Wisdom
and J's from
Those Shirts
)
Yup, another pointless post. Are you noticing a trend...?