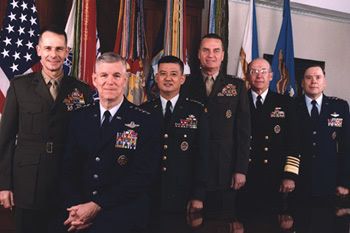 Following on the heels of an announcement from the Defense Department that the four major branches — Army, Navy, Air Force and Marines — had met their recruiting goals for June, and that annual goals will most likely be met, is the annual Harris Poll survey which released its "long-running time series on trust in the leaders of various American institutions".
Some leaders evaluated in the poll: Religious organizations, the Supreme Court, health care, small businesses, Congress, the military, corporations, unions, universities and law firms.
Coming in with the strongest percentage of 47% trust from the American public? Military leadership.
"...The military should be particularly grateful for the time series because it puts the armed services at the apex of institutional trust. A near majority of Americans, 47 percent, said they have a "great deal of confidence" in the people in charge of running the military. This edged out small business, 45 percent..." (
source
)
Who was at the bottom of the trust barrel?
"...TV news, Wall Street, the press, major companies, organized labor, Congress and law firms were near the end of the list, earning the strong confidence of less than 20 percent of Americans.
The ratios of trust are astounding. Almost five times as many Americans have a great deal of confidence in leaders of the military, 47 percent, as have the same confidence in leaders of the Congress, 10 percent..." (
source
)
If Americans trust Military leadership more than any other organization in the country --and the Democrats plan to win back Congress in '06 and the Oval Office in '08 by harping on how poorly the war was run...how's that gonna work out for them?