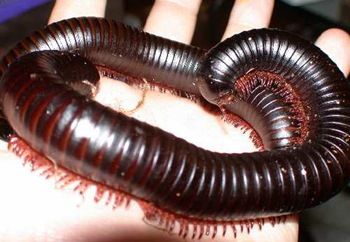 Justice: Mom, Mrs. G needs people to adopt the things that we have in the classroom. Lots of people want the guppies and the sea snails, but no one wants the giant Millipedes...
ALa: Uh, yeah, because no one wants
giant
bugs
in their house.
J:
Please
Mom, they're SO cool.
A: What do they eat?
J: I'm not sure.
A: Well, ask Mrs. G what they eat...
Please tell me how "Ask Mrs. G what they eat" was translated into "My mom said we can take them"?
Apparently it was and now today I have to go to Over-achiever Elementary and pick up two Giant African Millipedes. How long could they possibly live? I asked myself after realizing the teacher was counting on me to come through with my kid's promise. So I looked it up. Lifespan: 10-14 years. The story of my life...
Developing...