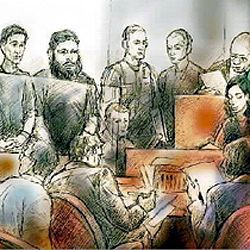 "Some of the 17 Muslim men accused of plotting terror bombings in Canada also planned to storm Parliament, take hostages and behead the prime minister and other leaders, according to accusations revealed Tuesday by the lawyer for one of the suspects.

Authorities further allege that the suspect, Steven Vikash Chand, plotted to take over media outlets, including Canadian Broadcasting Corp., his attorney said after a brief hearing at the Ontario Court of Justice."

...the purported plot to take political leaders hostage and behead them if Muslim prisoners were not freed and Canada did not pull its 2,300 troops out of
Afghanistan added a chilling dimension to a case that has led U.S. authorities to toughen security along the border and unsettled Canada's large Muslim community.
(
source
)
This whole mess brings two major issues to the forefront yet again:
Immigration: Canada's lax immigration laws combined with our extremly permeable borders
NSA Wiretapping: It was Canada's program, similar to the one here that is taking so much fire, that brought these 17 would-be-terrorists down.