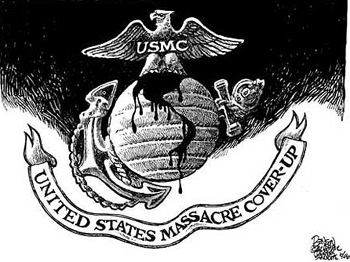 Does anyone else feel like there has been a decision to wage a campaign against American troops...? The anti-war effort wasn't getting anywhere on its merits -so something else had to be done --and I am beginning to think slandering, demoralizing and plain lying about the troops was the plan that was devised.
The
Haditha "massacre"
, the
"Haji girl" video
, the
anti-troop cartoons
, the 'no torture' laws (the anti-war crowd should read about what goes on at
SERE
- those boys wish they had it as good as Abu Ghraib and Club Gitmo) and the
GITMO suicides
...
Oh, and then there's this:
"The presence of US troops in Iraq is considered a greater threat to Middle East stability than the current government in Iran, according to a new poll of European and Muslim countries. The poll found that people in Britain, France, Germany, Spain and Russia rated the presence of troops in Iraq higher than the government in Iran as a threat, according to polling by the Pew Research Centre for the People & the Press. Views of US troops in Iraq were even more negative in countries like Indonesia, Egypt, Jordan, Turkey and Pakistan." (
source
)
Maybe if the civilian leadership let the guys on the ground fight this war instead of micromanaging from a comfy office --we would have been done and out by now...
Pull them all out and let Civil War, the religion of peace and Zarqawi's successor take care of it all...
I'm really burned out with all of this...