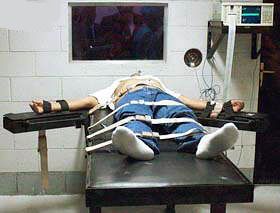 OK, so all my ire at Bush for a myriad of recent missteps (IMO) aside --I said before the 2004 election that the MAIN focus should be SCOTUS...that these nominations were why Conservatives
had
to win. Harriet Miers aside, thank God Bushie came through with that...
Samuel Alito was the tie breaker in a vote to uphold the death penalty for a twisted murderer that killed a mom and her 19 month old baby. Enough said, right?
"A divided U.S. Supreme Court upheld a Kansas death-penalty statute, as new Justice Samuel Alito broke a deadlock by siding with advocates of capital punishment.
The court, voting 5-4, rejected arguments that the state's law unconstitutionally creates a presumption in favor of the death penalty for convicted murderers...
... Michael Lee Marsh II, convicted of murdering Marry Ane Pusch and her 19-month-old daughter, argued that the rule violated the Constitution's ban on cruel and unusual punishments.
Dissenting Justice David Souter called the law ``morally absurd.'' He added, ``The court's holding that the Constitution tolerates this moral irrationality defies decades of precedent aimed at eliminating freakish capital sentencing in the United States.'' Justices John Paul Stevens, Ruth Bader Ginsburg and Stephen Breyer joined his dissent. (
source
)
Why oh why are libs always erring on the side of the criminal?!
Thank you Justice Alito... You did good. I eagerly await more of your tie-breaking decisions.