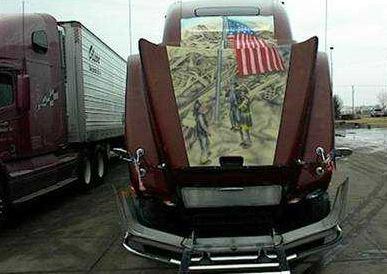 Amy and John Holmgren of Shafer, Minnesota have created a huge, breathtaking memorial to all those that were murdered on September 11, 2001. Reminiscent of Karla Comfort's
H3 Memorial
to her son, the Holmgrens have created an awesome tribute and daily reminder to all they pass...
With the help of friend Arlee Simpson of Applied Graphics, Mural Artist Paul Kosienski, & Graphic Designer Ryan --and inspired by Darryl Worley's
"Have You Forgotten"
(cool video), this is what the Holgrems have accomplished:
The Rolling Memorial has the name of every person lost in the towers, the pentagon, American Airline flight 11,& United flight 175, plus graphics of the towers & a New
York policeman holding a child. The front cab has graphics of Ground Zero with the firemen raising the flag. (
source
)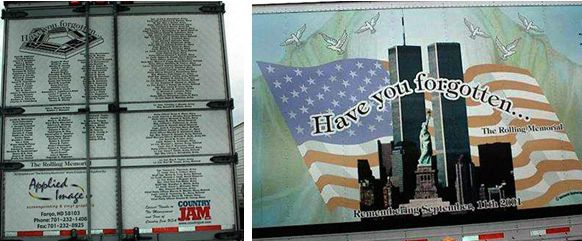 I'd love to be cruisin' next to this guy on the long ride to OBX...
(H/T: Teri)