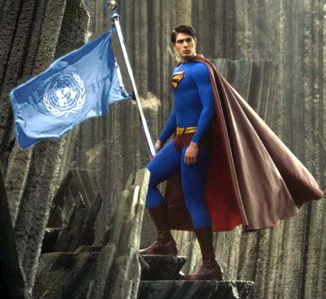 I have never been a big fan of Superman (Batman either for that matter) DC Comics are a bit hokey --Why bother with a geeky guy in tights or a grown man dressed as a bat when there are superheroes like
Wolverine
out there...?
I digress...
Anyway, it seems the screenwriters of the new Superman movie have decided he wasn't PC enough and changed his catch phrase "Truth, Justice and the American way" to... Ready for this...
"Truth, Justice...and all that stuff". Wow.
Here is an explanation from the writers, Dan Harris and Mike Dougherty:
Dan
: "I don't think 'the American way' means what it meant in 1945."
Mike
: "He's not just for Metropolis and not just for America."
Dan
: "He's an alien, from Krypton; he has come to Earth to be kind of a savior for this world, not our country . . . And he has no papers."
Mike
: "What would happen with the immigration laws we have now?"
Dan
: "I'd like to see someone kick him out!" (
source
)
Does absolutely everything from Hollywood have to be PC and bursting with political innuendo? As if "The Family Stone" and "Rumor Has It" weren't bad enough...
So, go enjoy the new politically correct, International Superhero... I'll be at X3.
(Huge H/T to:
Nanman
)