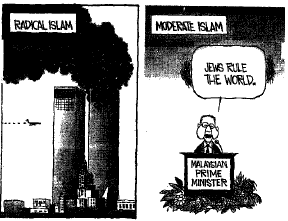 They get sued for expressing their opinions of Islamic reform...
in America
.
The Islamic Society of Boston is suing a bunch of people that have had the audacity to speak out against them and question their dealings.
"When Ahmed Mansour learned that a lawsuit had been filed against him by the Islamic Society of Boston, he had one urgent question: "Will they put me in jail?"
... Mansour is just one of many people and organizations being sued for defamation by the Islamic Society of Boston, which accuses them all of conspiring to deny freedom of worship to Boston-area Muslims. In fact, the defendants — who include journalists, a terrorism expert, and the founder of the American Anti-Slavery Group, plus the Episcopalian lay minister and the Jewish attorney who together with Mansour formed the interfaith Citizens for Peace and Tolerance in 2004 — appear to be guilty of nothing more than voicing concerns about the ISB's construction of a large mosque in the Boston neighborhood of Roxbury.
More than a few unsettling questions have been raised about the ISB and its mosque project. For example:
* Why did city officials provide the land for the mosque for just $175,000, when the parcel was publicly valued at $400,000? And where did that $400,000 figure come from, when the land's market value had earlier been assessed at $2 million?
* What is the Islamic Society's relationship to Yusef al-Qaradawi, a radical Islamist who praises suicide terrorism and endorses the killing of Americans in Iraq? For several years the ISB listed him as a trustee, though now it says that was an "administrative oversight." Was it also an oversight when a videotaped message of support from Qaradawi, who is banned from the United States, was played at an ISB fund-raiser in 2002?
* After it was reported that another trustee, Walid Fitaihi, had written that Jews are "murderers of the prophets" who will be punished for "oppression, murder, and rape of the worshipers of Allah," why did the ISB drag its heels for seven months before unequivocally repudiating his words?
But if anything should raise eyebrows, it is the decision of the Islamic Society to pursue Mansour for his comments about the ISB at a press conference in 2004. He had gone to pray at the ISB's current mosque in Cambridge, and described at the press conference what he had observed: "I am here to testify that this radical culture is here, inside this society," he said. He had seen "Arabic-language newsletters filled with hatred against the United States." Books and videos in the mosque's library promoted "fanatical beliefs that insult other people's religions." A religious man who prays five times daily, he stressed that he was "not against the mosque. . . . I'm against extremists."
If Mansour doesn't have the credentials to form such opinions, it would be hard to say who does. He holds three degrees from Cairo's Al-Azhar, the foremost religious university in the Islamic world, where he was appointed a professor of Muslim history in 1980. He would probably be there still if his scholarship hadn't gotten in the way. The deeper Mansour delved into the history of Islam, the clearer it became to him that the faith had been perverted into a "false doctrine of hate" — a doctrine that has been spread across much of the Muslim world and that has fueled great cruelty and bloodshed.
His mounting opposition to Wahhabist radicalism drew the wrath of the powerful Al-Azhar sheiks, who removed him from his classroom and put him on trial in a religious court. For two years, he says, he was pressured to recant. In 1987 he was fired. Then the Egyptian government imprisoned him for two months. (
Read the rest of the story
)
So what does it mean when CAIR and other such groups claim Islam doesn't always mean extremism --and that terrorist interpretation isn't mainstream interpretation? It seems that any "moderate" Muslim that comes forward has been labeled as a heretic... So what's the average infidel to think...?