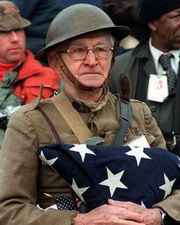 "The Department of Veterans Affairs (VA) has recently learned that an employee, a data analyst, took home electronic data from the VA, which he was not authorized to do. This behavior was in violation of our policies. This data contained identifying information including names, social security numbers, and dates of birth for up to 26.5 million veterans and some spouses, as well as some disability ratings. Importantly, the affected data did not include any of VA's electronic health records nor any financial information. The employee's home was burglarized and this data was stolen. The employee has been placed on administrative leave pending the outcome of an investigation."
(
Read the entire statement
from the Department of Veteran's Affairs)
"Veterans Affairs Secretary Jim Nicholson said there was no evidence so far that the burglars who struck the employee's home have used the personal data — or even know they have it. The employee, a data analyst whom Nicholson would not identify, has been placed on leave pending a review.
"We have a full-scale investigation," said Nicholson, who said the FBI, local law enforcement and the VA inspector general were investigating. "I want to emphasize, there was no medical records of any veteran and no financial information of any veteran that's been compromised."
"We have decided that we must exercise an abundance of caution and make sure our veterans are aware of this incident," he said in a conference call with reporters.
The theft of veterans' names, Social Security numbers and dates of birth comes as the department has come under criticism for shoddy accounting practices and for falling short on the needs of veterans." (
source
)
Disgraceful...
VETERANS:
You can call 1-800-FED INFO (333-4636). The call center will be open beginning today, and will operate from 8 am to 9 pm (EDT), Monday-Saturday as long as it is needed. The call center will be able to handle up to 20,000 calls per hour (260,000 calls per day) to get more information.