"Tell Someone"
is a new campaign spearheaded by Merck Pharmaceutical Company to bring more awareness to
HPV
(Human Papilloma Virus). Back in October of '05 I
posted about HPV and Merck's pending vaccine
.
I blame OBGYNs for the fact that SO many women I know think that a PAP tests for STD's. A PAP can detect cervical changes (pre-cancerous/cancerous changes) that could be caused by HPV...but it doesn't test specifically for STDs. YOU MUST ASK TO BE TESTED FOR STDs...!!!!
(The Facts: In 2000 9.2 million 15-24 year old were diagnosed with HPV --there are over a hundred strands and most are asymptomatic. They cause the gamut of problems, from genital warts to cervical cancer and infertility.
1 million people a year are diagnosed with genital warts.
The CDC reports that 20 million currently have HPV.
In 2006 approximately 9,710 women will be diagnosed with cervical cancer...3,700 of those women will die. (AB and I had a 28 year old female gynecologist that died from cervical cancer due to HPV, she had a 13 month old daughter))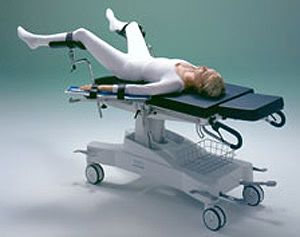 Merck's vaccine has now been approved --and a Reuter's article claims they are expecting resistance from the "religious right"... What is the controversy over the potentially life-saving vaccine? There is talk of making it a mandatory vaccine for to enter school...
"The vaccine, known as Gardasil, with an estimated $2 billion U.S. market potential, targets four types of sexually transmitted human papilloma virus, or HPV, which is believed to cause more than 70 percent of cervical cancer cases and 90 percent of genital warts.
"We don't think it should be made mandatory for school attendance," said Peter Sprigg, vice president of policy at the Family Research Council, who attended the Food and Drug Administration (FDA) advisory panel meeting on Thursday.
That view is shared by evangelical Christian group Focus on the Family. "We support the widespread availability of the vaccine, but we do oppose the mandatory vaccination for entry to public school," said Linda Klepacki, an analyst for sexual health for the group.
For Gardasil to be widely adopted, Merck must first win FDA approval. Then, it must garner widespread backing from the Advisory Committee on Immunization Practices -- a group that advises the U.S. Centers for Disease Control and Prevention on immunization standards. Both Merck and analysts deem widespread backing likely.
States would then consider whether it should be included in the list of vaccinations required for school admission. "This is a disease that is completely sexually transmitted," Klepacki said, unlike the mumps or measles, which can be transmitted by casual contact. "We believe that parents should have the final say on whether to vaccinate their children." (
source
)
Not surprisingly I disagree with the "religious right"... 9.2 million kids diagnosed in ONE YEAR? Give it to all of them. Boys/Men are spreading this disease like wildfire (and the fact that it can be spread even with a condom makes it worse). Boys often show no symptoms --and the fact that testing requires a very long Q-tip makes the chances they will voluntarily be tested slim to none...
Google "HPV" and hit "images" --this is not something you want in your life. Tell someone...