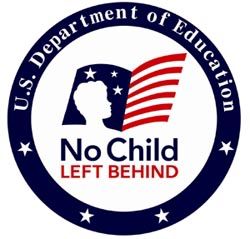 As many of you know, I am only credits away from obtaining my post-bachelor teaching certificate... That being said --I was never sure if I wanted to teach. I know a lot of brilliant teachers, but I meet just as many that I can't believe graduated high school let alone college. How is that?
There is one teacher I know (an acquaintance) who says, "You are SO smart" after everything I say. Now mind you, we aren't talking the theory of relativity here or Plato's allegory of the cave. Something as simple as telling Ninja the picture in front of him is a "red eyed tree frog"... I cringe when I'm around her --this woman (who seemingly knows nothing) is teaching our kids.
My point? Well, I guess I hear so many teachers complaining about NCLB (some say they complain purely because of the volumes of paperwork), but I have to wonder if it's the heightened accountability for many that can't hack it --and maybe shouldn't be teaching at all. (And for those that say we aren't spending enough on education: Justice's school gets over $11,000 PER STUDENT!!!)
"Not a single state will have a highly qualified teacher in every core class this school year as promised by President Bush's education law. Nine states along with the District of Columbia and Puerto Rico face penalties.
The Education Department on Friday ordered every state to explain how it will have 100 percent of its core teachers qualified — belatedly — in the 2006-07 school year.
The 4-year-old No Child Left Behind law says teachers must have a bachelor's degree, a state license and proven competency in every subject they teach by this year. The first federal order of its kind, it applies to teachers of math, history and any other core class.
Although the federal term is "highly qualified," the definition is widely regarded as more of a minimum qualification, because it requires teachers to know what they teach.
Phyllis McClure, who supports the law and tracks it for the Citizens' Commission on Civil Rights, said the department is right to demand accurate data and results from the states.
"They don't like having to do all this," said McClure, a supporter of the law. "I must say that they have become used to getting their way with the federal government." (
Read the whole story
)
I blame the NEA.