How many times have I kvetched about our paltry attempt at a Megan's Law Sex Offender registry here in Pennsylvania?!
Now we hear that they don't know the whereabouts of
700
of the freaks. Damn that pisses me off...
"Auditor General Jack Wagner said the Web site is lacking in other areas as well. "Even with the improvements, there are still far too many deficiencies that prevent Pennsylvania from doing its best to protect citizens, particularly children," Wagner said in a statement.
The state police, in response to the audit, said their Megan's Law unit requests a follow-up investigation by local police if an offender does not update his or her registration, and posts the offender's information on a criminal intelligence database. They also noted that their compliance rating far exceeds that of the national average, based on a recent survey by Parents for Megan's Law Compliance.
Wagner urged the legislature to approve certain changes to the law. He said the law should require state police to post the home addresses of all registered sex offenders on its Web site - a change that State Police Commissioner Jeffrey B. Miller said he agreed with. Currently, complete addresses are provided only for the 110 most violent offenders, while only the city, county and zip codes are given for the nearly 8,000 others.
"Without full street addresses for all offenders, the public cannot tell if a sex offender lives across the street or across town," Wagner said. (
source
)
Amen!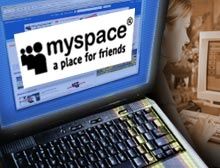 ...With the piss poor accounting of sex offenders, it's good to know that someone is advocating for children here in PA...and also in Massachusetts where they are trying to get MySpace registration changed from 14 to 18 (which you know I am ALL FOR):
"The arrest Tuesday of a 27-year-old man in Connecticut on charges of illegal sexual contact with a 13-year-old girl he met through MySpace underlines the risks of the fast-growing Internet site that boasts about 60 million members.
"MySpace has not taken sufficient steps to ensure that the MySpace Web site is a safe place for minors," Massachusetts Attorney General Tom Reilly said in a letter to MySpace.
He said a three-month investigation found that potential child predators were surfing MySpace seeking chats with potential victims and violent images or content were being posted to bully children.
"An adult can register as a minor member and use that profile to seek access to the profiles of countless underage members," he said in a statement." (
source
)
(H/T: Liz)