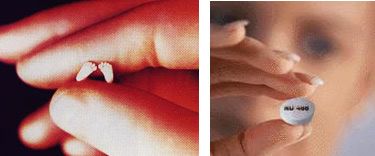 (FYI: The "morning after pill", or emergency contraceptive, and RU-486 are
DIFFERENT medications
. Maybe departing from other "pro-lifers", I am 100% OK with the "Morning after pill"...)
RU-486 however is the same as an abortion --except done without doctor supervision and IMO, potentially more risk to the mother...
"Reports of rare bacterial infections, including a handful of cases in women who have taken the controversial RU-486 abortion pill, are cause for concern and warrant further study, U.S. health experts said on Thursday.
Two sometimes fatal bugs -- Clostridium sordellii and Clostridium difficile -- are a particular worry as antibiotic resistance grows and infections occur in people without typical risk factors, doctors and researchers said...
..."What we do know is that in this country we are seeing the simultaneous emergence of two virulent, often fatal illnesses affecting otherwise healthy people," he said at the meeting.
Drawing the most scrutiny are at least 15 cases in pregnant women, including 10 fatal infections reported recently in women who had given birth or who had miscarriages.
Another six women who took RU-486, also known as Mifeprex or mifepristone, have died since 2000. Officials linked four of the cases to infection but could not tie them to the drug. Another case is under investigation..." (
source
)
The FDA (under extreme pressure from Abortion-promoting groups) OK'd this way too soon...