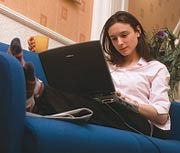 Not only can you get advanced degrees online -states are now working toward allowing students to earn virtual high school diplomas. Seattle's program will start this fall amid expected controversy.
"The group of business executives, politicians and educators launching the school Monday touted it as an alternative for students who need scheduling flexibility, might struggle in a traditional school or who live in remote areas.
"We do not want our geography to determine our educational and economic destiny," said Quillayute Valley School District Superintendent Frank Walter, whose district in Forks on the Olympic Peninsula will oversee the program and issue diplomas. "This is a new world -- youngsters today are digital natives, and there are students who thrive in that type of environment."
Critics, however, fear online-only schools such as Insight are merely cyber "charter schools." Voters have rejected charter schools three times, most recently in 2004. Critics also worry the online schools will deprive students of the interaction with other teens and adults that makes for a well-rounded education.
"A large part of learning is working face-to-face with a teacher and other students -- and online-only schools don't allow that to happen," said Rich Wood, a spokesman for the Washington Education Association, the state teachers' union. "There's great potential there, but it really should be to supplement traditional education." (
source
)
I completely understand the choice to homeschool children --though I have made no secret of the fact that I do worry about socialization issues... But this is still a fully state-mandated curriculum. It seems like a way to reward lazy kids. If they can't get to school, how will they learn to get to college classes or a job? What are "scheduling difficulties" for teens?