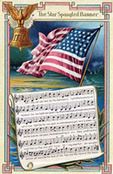 ...
performed En Español
. I haven't really thought about this enough to have a concrete opinion. I have a feeling Mexicans might be a tad peeved if we moved there, changed their anthem and made demands that would use their money...
You can
listen to 'Nuestro Himno' here
(It's actually very pretty--much better than what Roseanne did to it...)
Should Our National Anthem be sung in Spanish?