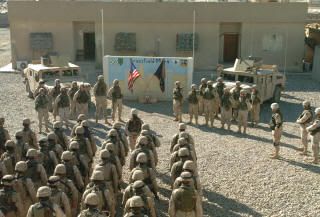 640
soldiers from Ft. Carson's 3rd Armored Calvary Regiment have re-enlisted. For some that means 2nd and 3rd tours in Iraq...
"Hundreds participated in a re-enlistment ceremony Friday, standing bolt straight on the shiny wood floor in a Fort Carson gym, raising their right hands and swearing they'd do anything to support and defend the United States.
...Retaining battle-hardened soldiers for the fighting in Iraq and Afghanistan - and possible future conflicts - has emerged as a major priority for the military. While Army leaders struggle to lure new recruits, they're offering $15,000 and more for veteran soldiers going abroad. Thousands of soldiers who've been in Iraq have accepted these offers.
But Friday's mass re-enlistment of soldiers just back from a second combat tour has raised eyebrows as far away as Washington, D.C.
In Iraq, the 5,000-soldier 3rd ACR faced frequent combat while handling a heavy load of counter-insurgency missions. They suffered 43 killed and 126 wounded. They haven't even had their official welcome- home party yet.
For hundreds to re-enlist shows serious professionalism, said John Pike, director of the think tank Global Security. "It reflects well on the chain of command that people want to stick with it."
Patriotism surges during wars, boosting re-enlistment, said military analyst Anthony Cordesman at the Center for Strategic and International Studies. Retention problems typically hit "just after the war is over, or after the war loses popular support."
At Army headquarters, Lt. Col. Bryan Hilferty, who monitors retention efforts, said "640 out of 5,000 soldiers is huge." (
Read the whole article here
)