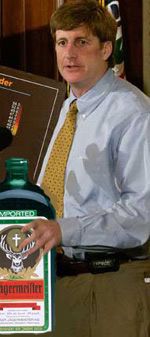 I don't normally believe in "family curses", but I think Joe Kennedy just may have sold his soul to the Devil...
Representative Patrick Kennedy, son of beloved Teddy, crashed his car near the Capitol on Wednesday and a Capitol Police official said he 'appeared intoxicated'.
"Kennedy, D-R.I., addressed the issue after a spate of news reports. "I was involved in a traffic accident last night at First and C Street SE near the U.S. Capitol," Kennedy said in a written statement released by his office. "I consumed no alcohol prior to the incident. I will fully cooperate with the Capitol Police in whatever investigation they choose to undertake."
Kennedy appeared to be intoxicated when he crashed his car into a barrier on Capitol Hill early Thursday morning, said Louis P. Cannon, president of the Washington chapter of the Fraternal Order of Police.
Cannon, who was not there, said the officers involved in the accident were instructed by an official "above the rank of patrolman" to take Kennedy home.
No sobriety tests were conducted at the scene." (
source
)
How convenient. Now he's saying he wasn't drinking...he was
on drugs
...
Mary Jo Kopechne was unavailable for comment.