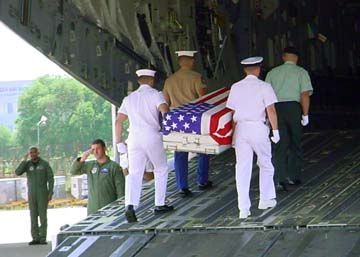 "Tears welling in the eyes of family members, a bugler playing Taps and honor guard members rendering a 21-gun salute are all part of the highest honor given to America's sons and daughters who die on the fields of battle.
A fallen serviceman who fought in Vietnam will finally receive those honors, because of a group from the 939th Air Refueling Wing who returned his remains to the U.S. April 18, more than 30 years after the war ended.
The effort to recover remains believed to be of an American soldier began in February when a team from the Joint POW/MIA Accounting Command, or JPAC, arrived at the Gia Lai province in Vietnam's central highlands.
"Like many of our searches, this mission was the result of some very hard work by members of JPAC's investigative and recovery teams," said Master Sgt. John McMillan, JPAC's plans superintendent.
The Joint POW/MIA Accounting Command is located at Hickam Air Force Base, Hawaii. Its mission is to account for as many Americans as possible who are missing from previous conflicts.
According to the sergeant, the remains returned Tuesday were recovered as part of the 84th Joint Field Activities conducted in the country's central and southern provinces.
"We discovered this location, which was in a mountainous area near the Laos border, after a series of interviews and investigations," Sergeant McMillan said.
A repatriation ceremony was held at Da Nang International Airport where the vestiges were handed over to U.S. officials. They were then transported from Vietnam to Thailand on a C-17 Globemaster III.
While JPAC specialists were successful in recovering the remains, scientists must now work to identify them at their Hickam-based lab.
"The remains were tentatively identified due to personal affects (that were found)," said Sergeant McMillan. "Now they have to go through the identification process at the Central Identification Laboratory."
Getting the remains to the laboratory from Thailand was the mission of eight reservists from the 939th ARW - one they gladly accepted.
"Being a part of this mission to repatriate the remains of this service member was extremely significant to me," said Tech. Sgt. Darric Delmonico of the 939th Aircraft Maintenance Squadron.
Sergeant Delmonico, who has served on honor guards for the past 17 years, was one of three KC-135 crew chiefs who volunteered for the repatriation duty.
"I wanted to honor this individual and be there when the remains touched American soil," he said. "I had a tremendous feeling of pride knowing that I helped contribute to the mission."
The aluminum case holding the remains was draped with a U.S. flag when carried off the plane and onto U.S. soil by Sergeant Delmonico and other members of the 939th ARW.
The repatriation mission sends a positive message to those fighting for freedom on foreign soil today, said Maj. Mike Markstaller, one of three KC-135 pilots from the 939th ARW who helped bring this fallen warrior home.
"If you fight and make the ultimate sacrifice for our country, there are those who will go to great lengths to properly honor your memory - even if it takes several decades to account for you," he said." (
source
)
...Two C-130 hercules pilots that were shot down in 1972
have been identified
using mitochondrial DNA from bone fragmanets.
...And far less serious, the tail of a Navy F-16 (that crashed in the Gulf of Mexico 3 1/2 years ago)
washed ashore in Ireland
.