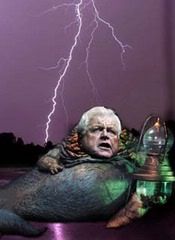 Remember when Teddy Kennedy's son had his 3am drug-induced mishap and I said the Kennedy curse may have originated in Joe Kennedy selling his soul to the Devil? Well, the curse struck again, but I decided it may all be retribution for the untimely death of the beautiful Marilyn Monroe. I am no conspiracy girl, but there is NO DOUBT in my mind the Kennedy's had a hand in Marilyn's "suicide"...
"A plane carrying U.S Sen. Edward M. Kennedy from western Massachusetts to his home on the coast was struck by lightning and had to be diverted to New Haven, Connecticut, his spokeswoman said.
The eight-seat Cessna Citation 550 plane lost all electrical power, including communications, and the pilot had to fly the plane manually, according to spokeswoman Melissa Wagoner." (
source
)
Karma's a bitch.
(H/T: Liz & G-Man)