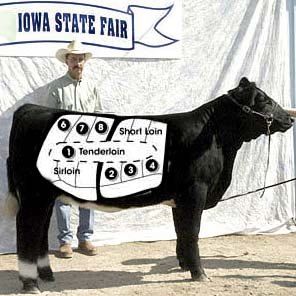 ...seems to be FAR superior the stuff we have around here.
My blog contributor Russ from Winterset and his wife, the Lovely Janet, were able to swing by last Friday on their way to D.C. --it was great to see Russ under better circumstances (last time his cycle had broken down in upstate PA and he had to re-enact 'Planes, Train and Automobiles' to get back to Iowa...)
Along with their wonderful company, they brought an absolute smorgasbord of Iowa fare. Seriously... T-bone steaks, bacon, ham, deer sticks, chili dogs, frankfurters, Iowa brewed beer and root beer, Iowa vineyard wine, monastery made caramels, and big 'ol block of real lard (long story).
OMG, the T-bones were the best we ever had. As The Man said, never have we tasted such a distinct difference between the filet and the strip sides. Melt-in-your-mouth incredible.
92alpha, AB and Liz all came over to meet them too --and BBQ, beers, Jewish Apple cake and good conversation was had by all...
Thanks Russ and Janice!!!!!!!!!!! You guys are awesome!
(ID and Trek, I wanted to invite you both...but Russ and Janice were REALLY limited on time. Another BBQ this summer -promise.)