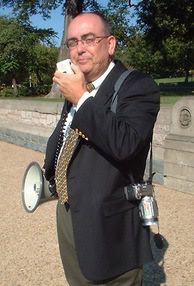 How anyone of the Jewish faith/heritage is a member of the Democratic Party has always baffled me...
The lack of support for Israel/Israelis...
The incessant "Zionist" talk...
The Senate leader and former KKK Grand Klegal, Robert Byrd...
and now, the Alabama Democratic candidate for Attorney general, Larry Darby.
Darby, founder of the Atheist Law Center in Montgomery, has "disputed the Holocaust and the death of millions of Jews and after he associated with groups tied to racism. He has also called for martial law and posting troops at interstate highways entering Alabama to check for illegal immigrants." (
source
)
I found this on the Atheist Law center's website:
"Darby will lead a discussion on Dominionism and update attendees as to the Atheist Law Center's intentions to intervene in the two cases before the U. S. Supreme Court that deal with displays of the Jewish Ten Commandments on public property." (
source
)
Odd to refer to them as the
Jewish
Ten Commandments...
The Democratic party of Alabama has released a statement saying that his view's aren't a reflection of their views, but refused to disqualify him as a candidate. In response to their statement Darby said: "That statement shows how bankrupt and morally challenged the party leadership is".