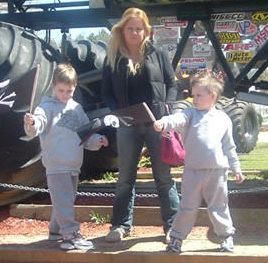 On this Mother's Day I thought I'd share the "Mother's Day Essay" that Ninja wrote. It was an assignment for Karate class... (I am fixing spelling errors LOL)
MY MOM is the BEST because...
"My Mommy plays Zelda for me. My Mommy watches TV with me. I show Mommy all my pictures I draw. Mommy lets me get a Gatorade after karate. Mommy gets me presents and I can always go lay in Mommy's bed to feel better. My Mommy is famous."
...haha, poor kid thinks I'm famous. Now how am I going to explain that to the Sensei's? ;)
Busta gave me a "Book of Promises" --things like "On MONDAY I will __________" He wrote seven different things from cleaning his room to washing the dog. When he handed it to me he said "Happy Mother's Day, but we had to do this for school and I'm not really doing the stuff in it."
To all the Moms -Happy Mother's day... We Rock! ;)
Mother's Day Knowledge test
...
"You answered 4 items out of 8 correctly. Your score is 50%. You may want to practice more."
Here's an interactive one:
Mother's Day Quiz
You fill it out answering questions about your mom to the best of your ability and then send it to her to see how many you got right... (My mom and I only answered one thing differently)
(The pic is me being a good Mom...haha Taking the boys to see Grave Digger. You can click for the full image)