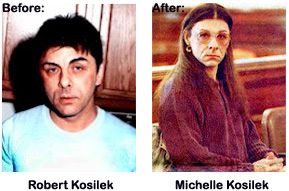 Can this possibly be happening (this is a rhetorical question --I know for a fact that it does happen...) Talk about pork --tax payer dollars for the sex change of a convicted murderer...?! People are homeless, hungry, and unemployed...but by all means, let's relieve this wife-killer of his penis.
"A man serving a life sentence for the murder of his wife is asking a federal judge to order the state to pay for a sex-change operation for him, saying that denying him the surgery amounts to cruel and unusual punishment.
A psychiatrist testified Tuesday that he believes Robert Kosilek will kill himself if state correction officials refuse to allow the surgery and Kosilek is unable to complete his transformation into a woman.
Kosilek, 57, was convicted of strangling his wife, Cheryl, in 1990.
In 2002, U.S. District Judge Mark Wolf ruled that Kosilek _ who now goes by the name of Michelle _ was entitled to treatment for gender identity disorder, but stopped short of ordering the state to pay for the sex-change operation.
Since then, Kosilek has received psychotherapy, female hormone treatments and laser hair removal. Kosilek, who wears his hair long and tucked behind his ears, has developed larger breasts since beginning hormone treatments.
Kosilek sued the Department of Correction for the second time last year, saying that numerous psychiatrists who had examined him _ including two of the DOC's own experts _ had determined that a sex- change operation is "medically necessary." (
Read the whole story
)