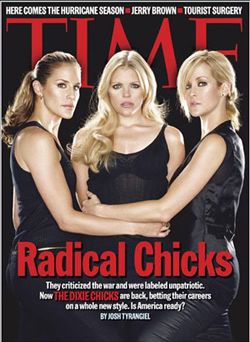 Not only have the Dixie
Chins
Chicks recanted their disingenuous apology to President Bush (for the London incident when they said they were embarrassed to be from the same state as the President) -they are now insulting Country fans...
"I don't even know what's played on country radio, but when they tell me some titles, it cracks me up," laughs lead singer Natalie Maines, sitting in a swank New York hotel as the group promotes its new album, "Taking the Long Way," out this week.
"Besides, where would we fit on the playlist between `Honky Tonk Badonkadonk' and `Tequila Makes Her Clothes Fall Off'?" asks Maines, citing two recent country hits, as the rest of the Chicks - sisters Martie Maguire and Emily Robison - join in her laughter.
"We don't want to be a square peg," pipes in Robison, while Maines adds: "We'd rather be the square peg on the other side!"
It speaks volumes about how wide the chasm is between the Dixie Chicks and country music when one of the most successful bands in the genre's history is cast as an outsider just three years after having one of its best-selling albums.
"They're in a strange place," says Chris Willman, a senior writer at Entertainment Weekly who has profiled the band for the magazine. "They're the biggest group in country but they aren't heard on country radio." (
source
)
They have said they won't "play red, white and blue guitars and wear an "I love Bush t-shirt" because (this is funny) "they're musicians and not politicians" --well, if they would have thought about that 3 years ago none of this would have happened!
And from
Time Magazine
:
(About the Dixie apology to Bush) "I don't feel that way anymore," Maines tells Time magazine. "I don't feel he is owed any respect whatsoever."
With their new album, "Taking the Long Way," hitting stores today, fellow Chick Martie Maguire isn't exactly mending fences.
"I'd rather have a small following of really cool people who get it, who will grow with us as we grow and are fans for life, than people that have us in their five-disc changer with Reba McEntire and Toby Keith," Maguire says.
"We don't want those kinds of fans. They limit what you can do."
I have never listened to the Dixie Chicks and nor do I plan to. Not because they don't like Bush, but because I think they suck and always have... (I HATE that they covered Landslide...) If you don't want the backlash -SHUT UP AND SING/ACT. No matter what you think you're going to piss off half the country. We (the consumer) shouldn't know your politics...