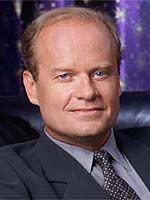 Looks like another Hollywood type is set to enter the political arena. Kelsey Grammer wants to run for public office. He doesn't say
which
office that would be in any of the quotes that I could find, but
all the stories
seem to hint at (or outright say) President.
"Grammer, who has a sordid past of substance abuse as well as a taste for strippers (though after Clinton the latter shouldn't be a problem), doesn't believe the skeletons in his closet will hurt his chances. "The opposition would hope [my past] would harm me, but my frankness and openness about it would probably benefit me." (
sourdce
)
...I'm still holding out for
Fred Thompson
.
I was trying to recall the celebs that have been on 'Real Time with Bill Maher' complaining and accusing over the NSA wiretapping --as it seems that Hollywood has been doing a bit of
wiretapping of their own
.