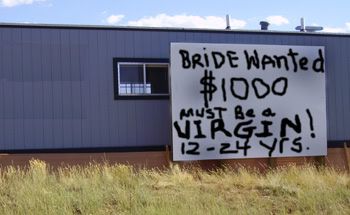 I feel like every story I do about some weirdo lately has taken place in the Sooner State...
The latest is 45 year old Michael Theleman, who is creating a scene in his neighborhood with a sign posted on his lawn…
"He put a sign in his yard Sunday saying he'll pay $1,000 for a virgin bride between the ages of 12 and 24.
One of his neighbors said she feels like she's living near a pedophile. As of Wednesday, there were no offers.
Theleman said he doesn't understand. He said his grandmother married "a much older man" at age 14.
After complaints, he put up a new sign Wednesday without the ages. The new sign said he's not interested in a "pig-worshipping, heathen, white-supremacist wife."
Stephens County District Attorney Gene Christian said Theleman's sign likely is legal." (
source
)
Truthfully, the only problem I have is that he didn't start the ages at 18. If he's such a misanthrope that he needs to advertise for a wife, that's on him... And $1000 is not near enough for one of those pretty Russian or Filipino mail brides.
(H/T: Liz)