This is important --especially for all of you that have attacked Sheehan's detractors... For those that have said "Her son died and she has the right to talk and not be disparaged"... Well, Sheehan believes that too, but she believes that she is the ONLY one who knows the pain of the ultimate loss and is the only one with the right to speak...
Laura Youngblood (whose husband was killed in Iraq) most likely exceeds Sheehan on the pain scale... Sheehan was married and raised her children. Youngblood lost her husband at 27 with one small child and eight months pregnant with another. As she keeps her last promise to her husband "to take care of his soldiers in Iraq" --she begs others to support the troops. What does Sheehan say about this Young Widow and any other Gold Star mom that isn't on-board with her agenda? She calls them "Murder and Mayhem moms"...
Sheehan: "I am starting to lose a little compassion for them. I know they have been as brainwashed as the rest of America, but they know the pain and heartache and they should not wish it on another. However, I still feel their pain so acutely and pray for these "continue the murder and mayhem" moms to see the light." (
source
)
Youngblood: "Using the same attention-grabbing tactics that helped make a national icon out of Sheehan, the mother of a soldier killed in Sadr City, Youngblood is targeting her rival's turf. She crashed a Sheehan-led protest on the steps of the McLennan County Courthouse on Thursday morning, holding her husband's photo and yelling to the group to applaud the troops.
"Show their support, that's all I ask," Youngblood said. "These people are dying every day," Youngblood said of military personnel in Iraq, "and . . . some of them feel like they're going to come back and it's going to be another like Vietnam where people aren't going to appreciate everything they've done. And that's sad."
"My husband and I both served for this country, my husband died for this country," said Youngblood, who met her husband in the Navy and married him on New Year's Eve 1999 in Las Vegas, a month after they began dating. (
source
)
Sweetness & Light
points out the difference in the pictures the MSM (or, as Rush says, the Drive-By Media) prints of the Anti-War mothers and the Pro-Troops Mothers...
The Sheehan crowd gets the heart-breaking artsy pictures...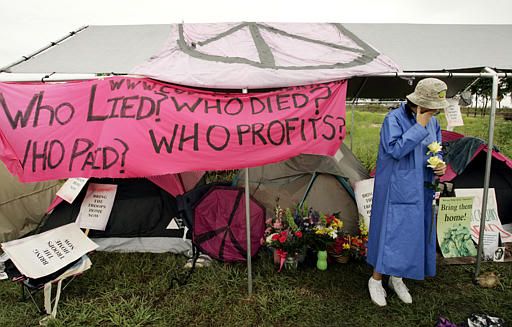 ...And the Pro-Troops Moms get the mid-defending their stance shots:
If you don't think this is agenda driven...you're quite naive. I learned it from them and I do it here all the time. If I'm writing about someone I don't like I search until I find the most unflattering picture I can find... It's psychological warfare.
...So, to all of you that have felt bad about bashing Cindy (since her son was killed in Iraq) --consider yourself absolved. She has no trouble bashing others that have lost husbands, sons and daughters in Iraq.