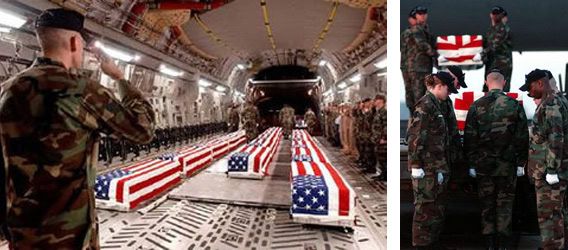 Canadians are having the
debate over media coverage and their war dead
similar to the one we had here in the U.S.
I think this is a really hard debate because I understand both sides.
I *do* believe that the MSM only wants media coverage as ammunition --for political gain, and that is wrong. ...BUT, I also believe in a free press and as much transparency as possible. It's a dilemma.
Is a returning warrior, that was killed in the War in Terror, the government's responsibility --which the media has a right to, or is the family owed this privacy in receiving their loved one? I lean toward letting the family have this moment.
"When asked what their biggest concern would be should something happen to them, very nearly all the soldiers who agreed to speak Tuesday said they preferred grieving family members be shielded from what they consider to be the sometimes ruthless intensity of the media spotlight.
"I believe that should be a family and private moment," said Cpl. Greg Gorecki, of 1 Combat Engineering Regiment. "I support the decision."
If a family member chooses to talk to the media, that's their prerogative, but they should not be put on display, complained several soldiers.
"All of the coverage the media has here on Kandahar airfield is all the coverage the media has to have," said Gorecki. "I think once the event has been covered, it doesn't need to be exposed any more." (
source
)