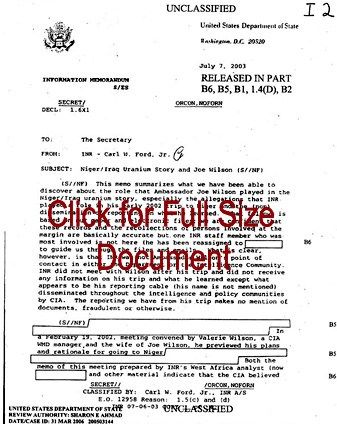 ...when the other side is politicizing a non-issue (for either side mind you). Right now the vindication is for the right.
We already know that the real reason the left was upset that Bush de-classified pre-war intelligence was because it proved Joe Wilson to be a liar --and that they quickly tried to spin the story to make it seem as if Scooter Libby said it was okay to leak Wilson's wife's name to deflect the exposed Wilson lies...
Now we have the documented proof that Plame wasn't "covert" (which the thinking public knew from the beginning)...
Real Teen has a post up
outlining the "Unclassified" Valerie Plame memo. This memo was declassified BEFORE 2003 and Plame's name is not blacked out.
"I researched the type of declassification this was, and found the following:
1.6 X 1: Reveal an intelligence source, method or activity, or a cryptologic system or activity
You will notice from the picture, that this is a 1.6 X 1 type of declassification. This actually means that the information was purposely declassified so that this intelligence source, method, or activity information would be available. Valerie Plame wasn't covert, or else this would have STAYED secret." (
Read the whole post
)
Considering the fact that anyone that decided to sit outside CIA headquarters in Langley could have seen Plame driving in every day and easily deducted she worked for them -this whole Wilson - Plame - Libby fiasco has been a bunch of smoke and mirrors. Even though it was obvious from the start, it's nice to see the BS dissipate. I got trolled big time the first day I posted that Plame was a desk jockey -- I always marvel at some of the crazy nasty stuff people will say to other humans under the cloak of "cyberspace"...
...If you want to see how vicious, nasty, racist and
always misogynistic
the LEFT gets when they are called on something --read
THIS POST at the Jawa Report
explaining what's going on with Michelle Malkin and S.A.W. members (Students Against War). See how all their PC rhetoric goes right out the window as they repeatedly call her "chink scum" (which I guess means these lefties are saying "they all look a like" considering she's not Chinese, but Filipino). If you are offended by vulgar language, you can read about it on
Michelle's site
instead.