*
An expression used in our family, "Talking about toilet paper", describes the practice of engaging in conversations about the meaningless and mundane in lieu of discussing important issues at hand
...
Were-Rabbits Exist
: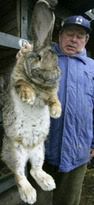 "In a tale reminiscent of the last Wallace and Gromit movie, furious villagers in northeast England have hired armed guards to protect their beloved communal vegetable gardens from a suspected monster rabbit.
Leeks, Japanese onions, parsnips and spring carrots have all been ripped up and devoured by the mystery were-rabbit -- prompting the 12 allotment holders in Felton, north of Newcastle, to hire two marksmen with air rifles and orders to shoot to kill.
"It is a massive thing. It is a monster. The first time I saw it, I said: 'What the hell is that?'" the Northumberland Gazette newspaper quoted local resident Jeff Smith, 63, as saying on its website.
"Certain breeds do grow very big, like the Continental Giant" which can be 66 centimetres (26 inches) in length or more, a spokesman for the Nottinghamshire-based council, which represent rabbit breeders, told AFP." (
source
)
Follicle Art
...
It seems that someone has done portraits of 42 American Presidents (from Washington to Bush)... nothing special you say? Well, they are all on a 1/2" strand of black hair.
THIS PICTURE
has been magnified 1000000 Times... The Man is a naysayer...
Lllll-oser!
...
I guess
THIS
is for reeeaaallly lonely people. (Yes, it is work safe)
Piercings Much?
...
It seems that Canada should be proud. 21 year old Matt Robinson has set a new world record for getting 1,016 piercings in one sitting. " Before Saturday, Robison had 26 piercings on his body. After the record was set Saturday, 1,015 of his new piercings were removed, leaving one in his body -- the record breaker." (
source & More pictures
)
Battle of the Little People
...
MiniKiss
VS. Tiny Kiss
"They might be pint-sized performers onstage, but offstage they're in a giant-sized dispute.
Joey Fatale, the 4-foot, 4-inch New Yorker who heads the all-dwarf KISS tribute band MiniKiss, is denying published reports that he tried to sneak past security last month at the Hard Rock Hotel and Casino in Las Vegas to confront a rival band leader, 4-foot "Little" Tim Loomis of Tiny Kiss, for allegedly ripping off his idea for such a group." (
source
)