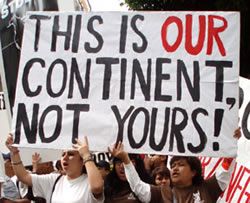 As predicted by yours truly (and a million others I'm sure...) a new
ZOGBY poll
shows that sympathy for illegals has dropped since protests began. Why would opponents to new immigration laws think that flying the American flag upside-down and holding signs of Che Guevara would ingratiate themselves to the American public?
61% say they are now "
less likely
to be sympathetic to the plight of illegals as a result of the protests".
32% say they are now more likely to be sympathetic.
52% were against amnesty
32% favor amnesty
"The survey also shows an overwhelming majority of Americans – nearly 4 out 5 – is doubtful President Bush and Congress will find a fair and effective solution to the immigration crisis. While 88 percent of Democrats and 85 percent of independents said it's unlikely a solution will be found, 66 percent of Republicans agreed.
Doubt about the prospect of Washington's success on the issue spreads across all geographic and racial demographics, the survey shows." (
source
For those that can't seem to see why amnesty is UNWISE in light of what is going on in the world... Here it is in black and white:
"Provisions in past bills that have given amnesty to illegal aliens
have been used by at least five terrorists to stay in the U.S. while planning or committing deadly attacks
, a fact that critics say proves their contention that the "path to earned citizenship" in immigration bills now before the Senate constitutes a security risk.
"We are just asking for trouble, having a program like that at the moment," said Janice Kephart, former counsel to the September 11 commission and a private-sector border security consultant." (
source
)