Yeah, just found this in the "embarrassing 80's" archives (i.e. one of my many photo albums). It was too good not to share... Go ahead; I'm all for a good laugh... even if it's at my expense.
Since you all played along so well, I will reward you with the pièce de résistance. No, I will not explain it though... ;)
Circa 1987:
(...Speaking of the 80's, I have
Motley Crue's Shout at the Devil
up at 100 Records today.)
Thank goodness others have decided to share too:
It's Russ from Winterset. OMG, how cute was he in his Don Johnson gear!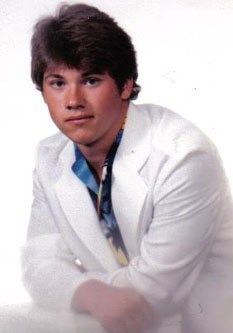 Courtney was a Mod Girl
Nimbus- ever the rocker
-and-
MJ just met my old flame
Anyone else? :)
AfSister's '85 Prom
Shawna's 80's pic
(
My Opinions are Free
)