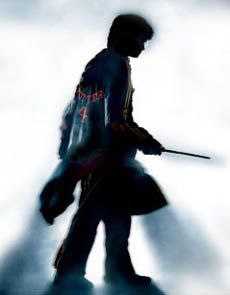 An Episcapalian Priest converted and is now a Wiccan priest. he claims that the boy who triumphed over Voldemort is the reason... Wayne Haney says that reading the Harry Potter series while he was in the midst of a mid-life crisis led to the religious makeover…
"By most standards, Wayne Haney appears entirely normal. He is a teacher of World History and American History at North Branch High School in rural Lapeer County in Michigan, approximately 80 miles north of Detroit. He is 41 years old, married, and the father of two...
...Claiming that he does not proselytize, Haney hopes nonetheless to be a resource for enquirers into his new found faith. Wiccans claim that their system of beliefs is compatible with other religions, even while they deny Christian teachings as to the identity of Jesus Christ. Some Wiccans also deny the label of "Satanist" since they deny the existence of Satan. Wiccans have practices that draw from a variety of Celtic, Norse, Greek, Roman, and Egyptian sources, as well as the esoteric and sexual practices of eccentrics such as the sexual revolutionary and occultist Aleister Crowley.
According to the Battle Creek Enquirer, Haney says that it was during this crisis of faith that he began to read the "Harry Potter" series of books to his children. The magic depicted in the books aroused a curiosity in Haney that led him to Web-searches and other readings. This led finally to a Wiccan group in nearby Flint, Michigan where he and his wife were welcomed." (
source
)
I really liked the Harry Potter books and of course wished I had a wand and a broom, but basing a major life change on them...? This is definitely the day for odd stories...