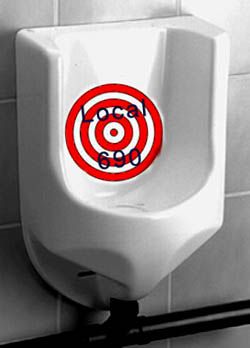 After you read this story, I don't EVER want anyone to give me a hard time about my absolute and all-encompassing loathing of labor unions...
Comcast is building what will be Philly's tallest skyscraper and the plan calls for 116 waterless (no flush) urinals... the Dems should be happy right -conservation and all, BUT NO! The plumber's Union is FREAKING OUT.
"The urinals, proposed for the new Comcast Center, would save more than 1 million gallons of water a year, but the union said waterless urinals mean fewer pipes and less work. The city's licensing department still must approve the plan."
(
source
)
The tallest
GREEN
building ever...and the registered Democrat union thugs are crying in their coffee. OMG, my head is going to explode. Those of you that live in "Right to Work" states have no idea the level of intimidation, corruption and thuggery that is in play when it comes to Philly/New York/New Jersey labor unions (especially on election days).
How absolutely mind-blowing and unbelievable that there are
sit downs
with Senators and Mayors over
urinals
going on as you read this...
"State Sen. Vincent J. Fumo is personally trying to broker a sit-down on urinals with the Plumbers Union, Philadelphia building-code officials, and the Comcast Center's developer, spokesman Gary Tuma said in a telephone interview. Meanwhile, a source close to Mayor Street said that he, too, is negotiating privately to make something happen with the environmentally friendly technology." (
source
)
..I really don't know what else to say. They're running this story in
New Zealand
--I'm so embarrassed...
Local 690 - Piss off!