I don't know if all of you have seen the
VIDEO
of the DEA Agent (Lee Paige) who shot himself in the foot while lecturing to kids about gun safety. Here's the thing... I know it sounds ridiculous, but I actually had respect for the guy when I first saw it because he doesn't want to freak the kids out so he goes on with the presentation
after
he shoots himself. he clicks the gun and nothing happens --he didn't think it was loaded and it didn't seem to be loaded...but it made the message to the kids that much more poignant...
...But now he's
filed a federal lawsuit against the government
saying that he "looks like a laughing stock", but dude, I didn't think you were a laughing stock until you sued...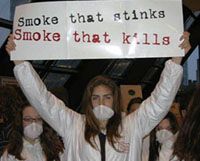 I know I normally complain about frivolous lawsuits... but this one would be pretty awesome...
A tobacco company is suing second hand smokers for breathing in their product without paying for it! LOL...
"The B.S. Raleigh Tobacco Company is fighting back. They're tired of people enjoying their products for free. That's why they've filed a $5 billion class-action lawsuit to penalize millions of secondhand smokers.
"If people ain't gonna buy our cigarettes, they shouldn't be able to enjoy other people's smoke," declared Raleigh President Frank Thermal." (
source
)
I am so sick of the righteous indignation of non-smokers... and the TONS of people that say they don't smoke --and only mean they don't smoke in public. Apparently no one smokes anymore, but almost every car I drive past has someone smoking... Hmmmmm...
Can I have ONE vice please...?
Babs has delved into the practice of pycho-therapy and her first analysis is of the President.
I love this line from NewsMax...
"Noted political psychologist Barbra Streisand says she has plumbed the depths of President Bush's psyche, and has come up with his deep-seated reasons for toppling Saddam Hussein." (
source
)
Here is the premise of her "Truth Alert" section...which I find quite amusing...
"If...sometime within the last 7 days a falsehood has been written in print, spoken on radio, or aired on television about Ms. Streisand...the TRUTH ALERT will contain a statement made by Ms. Streisand and/or her representatives to correct that falsehood." (
source
)
Her revelation about Bush?
"By invading Iraq, she insists, Bush 43 "had the chance to finish what he feels his father was unable to finish. And he could finally have the opportunity to achieve something his father was unsuccessful in achieving ... a two-term presidency." (
source
)
I guess the next article will be unveiling her "new" slogan..."Bush Lied People Died"