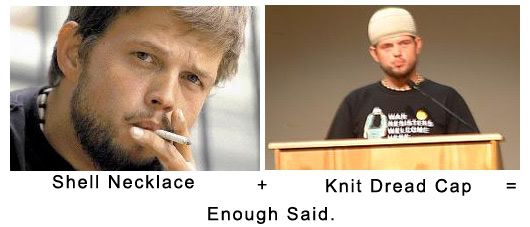 I'm sure Joshua Key would say anything to stay in Canada and not have to face desertion charges from the Army the he joined of his own free will.
What seems not to have crossed Joshua's mind is while he is slandering his fellow soldiers -that are fulfilling their obligations and not in Canada to defend themselves-- he is also bolstering the insurgents each time his story runs on Al Jazeera (which it has...often). He is furthering the view of the "evil west" because he is too much of a p___ to keep his word to his country, his fellow soldiers and the contract he signed...
"A U.S. Army deserter seeking asylum in Canada recounted a litany of grisly horrors he said were committed by his fellow soldiers in Iraq, including an incident where a soldier kicked around the severed head of an Iraqi man as though it were a soccer ball.
Joshua Key, a 27-year-old former combat engineer who served in Iraq in 2003..." (
you can read the rest of his plea to the Canadian Immigration and Refugee Board here
)
...And yes, Al Jazeera headline
"Shoot first and ask questions later"
.
Let Canada keep him...maybe he'll get trampled by a Moose.