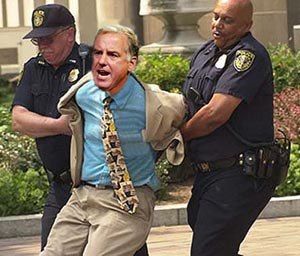 Looking for
anything
to take attention from the colossal embarrassment that representative Cynthia McKinney has caused (On the way to make her Clintonesque "apology" yesterday, McKinney's private security guard told a reporter that he would "kick [his] ass"), the Democratic leadership is trying to hype pieces of Scooter Libby's testimony that is being released...
Libby claims that Bush OK'd pre-war intelligence about Iraq to be leaked. There is no conversation that says either Bush or Cheney authorized information on CIA undercover-at-a-desk-in-Virginia Valerie Plame to be released.
So what's the big deal here? This was the AFTERMATH of the Iraq War. This was released to SHOW AMERICANS WHY he made the decision. Obviously, if it was AFTER the fact, it wasn't endangering any operation or action. Is this real hype -or is it counter hype in anticipation of conservatives saying they were right about Bush/Cheney not being involved in Plame-gate?
"The fact that the president was willing to reveal classified information for political gain and put the interests of his political party ahead of America's security shows that he can no longer be trusted to keep America safe," Democratic National Committee Chairman Howard Dean said.
Sen. Chuck Schumer, D-N.Y., said, "The more we hear, the more it is clear this goes way beyond Scooter Libby. At the very least, President Bush and Vice President Cheney should fully inform the American people of any role in allowing classified information to be leaked." (
source
)
I am pretty sure Democrats are trying to confuse the (average) American voter into thinking it was shown that Bush leaked Plame's name. Oh well, I guess I'd do the same thing in their shoes...