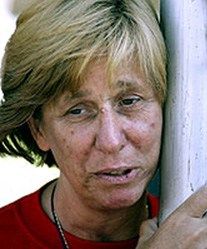 According to
Expose the Left
, Cindy Sheehan will be giving a "closed door speech" at a public (a.k.a. tax-payer funded) High School in (one guess...?) San Francisco.
Lowell High School
is an "alternative" public school (Naomi Wolf is an
alumni
, so that explains a lot) and this little shindig with Sheehan is a students-only event. Apparently the school is being pretty tight-lipped about the event... I want to know if she is being paid for her speech!?
In
this week's school bulletin
it only says "Color Wars Rally" on the day she is supposed to be there. There is also an announcement for "Rainbow Week coming in April".
A commenter on Expose the Left's site wrote that S.F. Radio talk show host Melanie Morgan asked if another Gold Star Mother that lost a child in Iraq could speak with a different point of view....she says the school said no.
This is just a hunch, but I have a feeling if Ann Coulter was scheduled to speak at a public school CNN, MSNBC, AIR AMERICA, the NYT and Daily Kos would be ready to collectively combust...
(H/T: Andy)
...And how did I miss
THIS
?!
Susan Sarandon
is going to be playing Sheehan in an upcoming movie? I guess because she's still upset about the
election that "was a fraud"
.