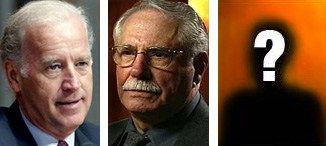 Two Democrats have thrown their ACLU cards in the ring for the 2008 presidential nomination.
Senator Joe Biden (who surprisingly didn't make it on the American Conservative Union's
"Worst of the Worst" list
) hasn't officially announced, but did say that "he will run for president if funding and support pans out. Biden called South Carolina a "critical state" because of its potential spot as the first-in-the-South primary. "I think I can do well here. It's like home," he said." (
source
)
...But an unknown (to me) is now the first to officially announce...or officially announce that he plans to officially announce. Former U.S. Senator Mike Gravel will officially announce Monday that he is seeking the Democratic nomination. I'm going to go out on a limb here and predict that all this announcing or not announcing is for naught. The man is 75 years old and hasn't been in the Senate since 1980. (
source
)
In preparation for Hillary's '08 bid, dutiful hubby Bill has started
joking about the Lewinsky scandal
in an attempt to take the sting out of it...
I'm getting the feeling the primaries are going to be pretty crazy on both sides. I can't wait to see how many candidates there will be...