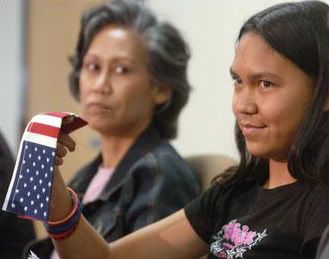 Since I have no problem drawing attention to the many foibles of the ACLU, I thought it only fair that I bring your attention to the first good thing I have seen them fight for in a while...
"The American Civil Liberties Union on Thursday called for administrators at Fallbrook High School to apologize to a student who said she was told to stop displaying an American flag on campus two weeks ago.
Fifteen-year-old Malia Fontana said the district violated her right to free speech when it asked her to remove a handkerchief-sized flag that she wore in her back pocket when she went to school on March 31.
Tom Anthony, superintendent of the Fallbrook Union High School District, said he will meet with school officials when they return from spring break Monday morning to discuss the alleged incident. He declined to say whether the district will offer an apology, and said he will know more after talking with school administrators.
At a news conference Thursday in downtown San Diego, representatives of the San Diego & Imperial Counties branch of the ACLU also demanded that Fallbrook High School remove all mention of the incident from Malia's record, and that the school repeal any ban on the display of flags.
"The Supreme Court has been very clear ... that the freedom of speech does not stop at the schoolhouse door," said David Blair-Loy, legal director for the ACLU chapter, citing a 1969 case, Tinker v. Des Moines. "Students have every right to the freedom of speech enjoyed by adults." (
source
)
So there you have it...444,957 to 1.