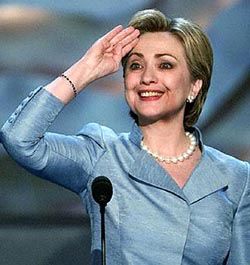 Sports analyst
Danny Sheridan
is giving Hillary a 3:1 shot at being the next President of the United States of America. That wasn't scary enough for you? Well, he thinks that her odds would go up with Bill as her VP... (Apparently Sheridan predicted Clinton's 1991 win while he was still the underdog).
Here is Sheridan's explanation:
"George Bush and the Republicans have blown it with Iraq and the economy. The thought of having Bill Clinton as her adviser is like having two good vice presidents (him and her running mate) . . . I'd respectfully suggest she name Bill as her v.p. running mate, which would make her a big favorite." (
source
)
Here are some of his other predicted odds for the '08 race:
John McCain 6:1
Rudy Giuliani & George Allen 7:1
John Edwards, Bill Richardson, & Evan Bayh at 20:1
Bill Frist 25:1
George Pataki, John Kerry & Jeb Bush 30:1
Which seems to be saying if it's not Hillary it will definitely be a Republican (even if it is a RHINO). I can't see Hillary winning, but I've been wrong before (most memorably in 1996).