I realize the term is a joke to African Americans and I get why. I was once at a Popeye's Chicken in a very Black neighborhood and the manager finally had to wait on me because the counter girls (after much head wagging) refused to do so. I am fully cognizant of the fact that this doesn't compare to many of the things that Blacks experience on a daily basis... I fully acknowledge that if I were African American I would probably be militant as hell, it's just my nature.
BUT, there are some blatant inequalities lately and something must be said. First let me say that I am raising my children right --as are all my friends both Black and White. The sad thing is that other parents aren't. A racist in the south using the N-word and a militant in Philly calling me a cracker will ensure that no matter how I raise my children or how you raise yours --the race divide with flourish...
Two specific stories have been on my mind:
1) Do you remember when I
posted about the KKK Hood
that was put on the white Philly firefighter's locker? If that was a hood on a Black man's locker there would have been a shit storm here in the City of Brotherly Love...but there hasn't been a peep since the initial story.
I realize the Inquirer and Daily News are going through a buy out but WTF? Nothing? I have it on pretty good authority the FBI is involved and that the perpetrator may be a VERY high up...
This is a HUGE story --yet there is silence.
Stu Bykofsky
...
Dan Rubin
...someone...if the hood-hanger really is who I heard it was this is the juiciest story of the year --where is it!? If *I* (with no resources) know about the story, an investigative journalist should have been all over it...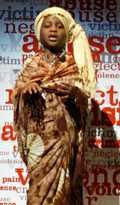 2)
Michelle Malkin
has a story posted about a 7 year old African American racist poet that is being heralded by New York lawmakers. Now, I
posted with equal disgust
over the little blonde racist singers.
Autum Ashante, whose father is a member of the nation of Islam member, is the "poet" in the spotlight, but she isn't being looked at with horror like the little blonde racist girls...she's being called a prodigy.
"Autum has appeared at a tribute to black nationalist Marcus Garvey, America-bashing 9/11 conspiracy-monger Amiri Baraka's annual family cookout, and the extremist New Black Panther Party's Million Youth March. The city of New York honored her with a proclamation for inspiring "her peers, as well as adults, while also demonstrating the power of a father's love, the importance of education and the limitless boundaries of the human mind." New York City councilwoman Yvette Clark called her "one of the most precious young talents that this world has ever known." (
source
)
Don't people understand that this blatant inequality in treatment, coverage and expectations is what breeds resentment in those that wouldn't normally have it. If no one steps up to the plate to END it...it will be here forever. Maybe if more people understood the
full psychology
of our entwined histories things could start to change...