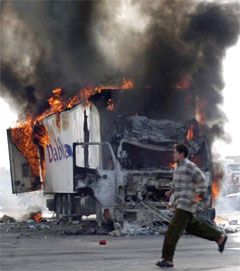 The FBI is being very tight lipped about an
investigation into South Central Career Center Truck Training Program
(that grants CDLs) in Missouri.
In the past 18 months 60% of the graduates had "Muslim names", yet there is no large Muslim population in the area. It seems CDL (commercial driver's license) candidates are coming in from Kansas and most seem to be from Somalia. It has also been uncovered that a teacher at the school has been pocketing admission fees and "taking gratuities" to make sure the Muslim men got spots in the program.
"Karla Eslinger, school district superintendent, said the FBI took hard drives and records of people who took commercial driver's license tests.
She said these are people who walk in to take the test with records showing they completed training elsewhere, not students trained at the school.
Eslinger said the trucking program's director, Dean Proffitt, first contacted state police in 2003 to report his suspicions that a large number of people taking the commercial driver's license test had names that appeared to be Middle Eastern in origin.
About 520 people who did not train at the school took the test there from May 2004 through December 2005. More than 300 of them, or about 60 percent, had names that could be Middle Eastern in origin." (
source
)
Here is a prime example of a situation where nothing but racial (or name) profiling could be used to thwart a possible serious problem... Can anyone disagree with that?