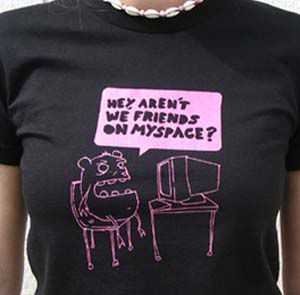 Yes, I am beating a dead horse here, I know... But as I cruise around MySpace.com I am still seeing underage girls with WAY too much personal info posted. You can have the smartest teen ever, but smarts will not help her when she is pulled into a car because she posted her picture and the name of her high school...
My Space is an after hours club with no dancing and no need to buy someone a drink. Would you let your 13, 14, 15, 16 or 17 year old go to an after-hours club? (If you say yes, you've never done after-hours in Philly...the things my innocent eyes beheld!)
The horror stories abound (notice, there are no stalking/molesting/raping stories about Blogger...) Here are some incidents originating in My Space encounters:
"In one case, Sonny Szeto, 22, traveled from Jersey City, N.J., to Connecticut in October and molested an 11-year-old girl in her playroom while her parents slept upstairs, according to an FBI affidavit." (
source
)
"In the other case, Stephen Letavec, 39, molested a 14-year-old Connecticut girl in his car while visiting from Elrama, Pa., in October, according to another FBI report. The FBI said Letavec made several visits to see the girl between last summer and January." (
source
)
"A middle school student faces expulsion for allegedly posting graphic threats against a classmate on the popular MySpace.com Web site, a district administrator said.
Twenty other students at TeWinkle Middle School were slapped with two-day suspensions for viewing the boy's posting on the social networking site, officials said.
According to parents of three TeWinkle students, the boy allegedly created a MySpace group on Jan. 3 that he called "I hate (girl's name)" and included an expletive and an anti-Semitic reference. Five days later a second posting asked, "Who here in the (group name) wants to take a shotgun and blast her in the head over a thousand times?" (
source
)
"Six Lexington police officers were administratively charged today after an internal investigation into comments and photos they posted on the popular Web site Myspace.com.
Two of the officers, Joshua Cromer — charged with unbecoming conduct — and Gene Haynes — charged with unbecoming conduct and interfering with a case, were relieved of sworn duty with pay, pending a final disposition. The officers turned in their badges and guns, and they cannot make arrests.
The other four officers, Richard Sisk, charged with unbecoming conduct; Aaron Noel, charged with unbecoming conduct; Adam O'Quinn, charged with breaking the guidelines an officer must follow when making public statements about their jobs or the department; and Paul Stewart, charged with unbecoming conduct, will continue to work at the police department.
The investigation is ongoing and additional charges may be lodged, officials said." (
source
)
I have no idea what my point is... other than
I wish you had to be 21 to use the site
...