For those of you that don't already know:
American Soldier's wife has posted on his site to let his readers know that he has been injured by an IED in Iraq. She says that his injuries are not life threatening.

"...He is trying to be in good spirits. But it can be hard to have to sit out on something you love doing. As i said it is not clear how this injury will impact his deployment. So both of us are taking it day by day. We are in more frequent contact since he is inside the wire. I think it helps us both to have that ability...." (Read the whole post at American Soldier)

I have corresponded a bit with AS and he seems like a real cool guy (and a fellow OBX lover)--my thoughts and prayers are with him.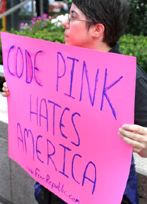 CJ, over at A Soldier's Perspective, has two things you should check out:

1) He went over to check out the Code Pink Friday night protests at Walter Reed. He has a post up documenting the evening. He talked to the Pinkos and hung with the Freepers...and there are pictures.


2)The second post is about a casting call for recently redeployed soldiers, marines and airmen at MTV. They are doing "True Life: I'm Re-Entering Civilian Life. If you are returning from Iraq or Afghanistan and are between 18 - 28 you can email MTV at ReturningFromDuty@mtvstaff.com. If you get picked, make sure to thank CJ for the heads up!
Just a quick reminder about the Milblogging Conference in April. I want to clear up what seems to be a common misconception... you DO NOT need to be "invited" to the conference. No one was invited.
You just have to go to the website and register.
Everyone is welcome as long as seats are available.