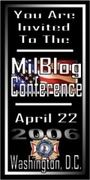 The venue for the 2006 Milblog Conference
has been announced
. It will be Saturday, April 22nd in Academy Hall at the AED Conference Center in Washington DC. The suggestion is to make your hotel room reservations in the
Rosslyn/Key Bridge area
.
There is still nothing posted about a time for the event. I hope it's not in the morning... I was wrong,
agenda
is posted -thanks FBL! It IS in the morning --that could be problematic for The Man and I.
There is also
a song called "Hidden Heroes"
that can be downloaded for as little as a $1 (or as much as you want to donate) and will benefit the conference --excess will go to the veteransfoundation.org.
There is still room, you don't need an invite and you don't need to be a Milblogger...
Sign Up Now
...
Who's going?