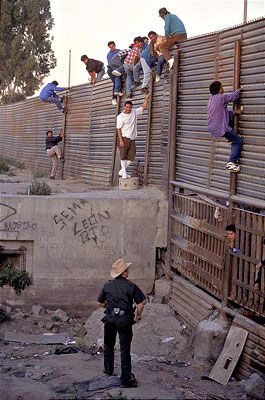 The Minutemen brought the situation firmly to the forefront of American thought...and now, even though I am sick-to-death of talking about it, I feel that we must. All the protests, new legislation --and the dreaded "A-word" (amnesty) on the table, makes the subject impossible to ignore (you can really only get away with posting about Sean Penn and his doll once...)
I have too many thoughts swirling to make this a cohesive post, so forgive me if I just throw some things out there...
First and foremost I think we should understand why no politicians want to touch this issue. With all the security issues and money being siphoned into illegals, you would think the issue would be a no-brainer. It is a no-brainer for politicians...it's estimated that
by 2050 Hispanics will be the majority race in the US
. Enough said? It seems that both parties are vying to be the "Hispanic party".
Second, I don't understand why this is a left/right issue. Isn't it the left that wants no one to be poor, better public schools instead of vouchers and health care for all? Well, we could probably do all that with the
money this country spends on illegals
...housing, welfare, schooling, health care... I wonder what is costing more, the war on Iraq or the growing strain illegals place on this country each year. Hasn't the left imagined what grand social programs they could embark on with all that money?
Third, is the dreaded statistics. Every pro-amnesty pundit on TV claims what great, law-abiding, hardworking people are pouring over the border. One woman (sorry, I caught this on TV yesterday and have no source) was saying that anyone that uses the term "illegal alien" and is against amnesty is the equivalent of David Duke....? If you want people to abide by American law you are the same as a KKK member? The statistics tell a different story than the amnesty pundits-- hardworking, some are yes, but are the majority "good people"? The numbers say no.
Illegals make up about 3% of the population YET they make up 17% of the prisoners in federal jails
(and HALF the jail population in California). Obviously they aren't "Law abiding" or they wouldn't be here to begin with...but they don't seem to be abiding to laws once they're here either.
My solution remains the same...if Vicente Fox wants to continue to encourage illegals to cross our border -either an Israeli-style wall will be erected, or each person crossing that border will be hauling two barrels of oil...