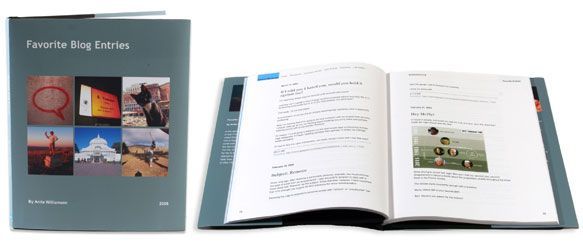 Much to the dismay to those that fancy themselves "real authors", anyone can get published now through a number of on-line self publishing companies.
One seems a bit cooler than the others and is more of a Blog snapshot in hardback than an actual book. The software is at
Blurb.com
and the prices are phenomenal.
"Pricing for printed versions of your book from Blurb starts at $30 for an 8-by-10-inch full-color hardcover volume with dust jacket and up to 40 pages. A book of up to 80 pages is $3 more. (Blurb plans to eventually offer paperback editions selling for about 30 percent less than hardcover.) Authors will also be able to set up online bookstores through Blurb's Web site." (
source
)
Now, don't judge all self-published books by the prevailing stereo-type that these authors just can't cut it in the real publishing world... There is one self-published book that I read this year that was well worth the read and should have been picked up by one of the houses...especially in light of the current role our troops find themselves in now in Iraq...
Lost in Yugoslavia: Today's Peacekeeping Soldier
by a great guy, Johnny Coogan.
If you read one self-published book this year, make sure it's Coogan's!